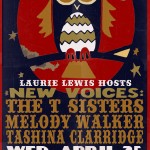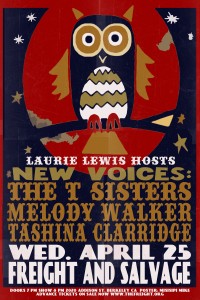 Who

New Voices presented by Laurie Lewis

When

Wednesday, April 25, 2012

Where

2020 Addison Street
Berkeley, CA, USA 94704

Other Info

The Freight's favorite musician for all seasons, Laurie Lewis, hosts this outrageous outpouring of youthful talent with some of the best that Northern California has to offer, featuring The T Sisters, Melody Walker, and Tashina Clarridge. Laurie is so enamored of these young singers that she wanted to make sure that the Freight audience had a chance to hear them, and at last century's pricing, you owe it to yourself to take a chance on getting blown away!

$12.50 advance / $14.50 at door

The T Sisters

Erika, Rachel, and Chloe Tietjen comprise Oakland-based singing trio the T Sisters, last seen on our stage wowing the crowd at the 2011 Holiday Revue. The sisters perform original music influenced by blues, folk, bluegrass, gospel, country, rock and more, all drenched in their enchanting sibling vocal harmonies and spiced up with their charming stage personas.

Melody Walker

Melody's bold, provocative songs, performed with a smoldering voice, multi-instrumental prowess, and infectious spirit of abandon, blend folk, pop, southern rock, and old-time music into an intriguing vision that also embraces global sounds and themes.

Melody's Website

Tashinna Clarridge

The 2005 Grand National Fiddle Champion, Tashina has toured with Mark O'Connor, Tony Trischka, Laurie Lewis, and her own hot band, the Bee Eaters. In addition to her fiddling prowess, Tashina is a fine singer: we are excited to hear her vocal debut tonight.